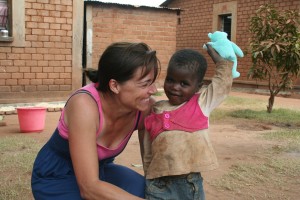 Things are moving along here in Malawi. Yesterday was Freedom Day so we were told that the brick layers would not be working. We made arrangements to spend the day doing other things. Organizing donations, visiting Adziwa again and walking through some of the local villages. We got up at about the same time as normal had our breakfast and began sorting all the donations we had brought. About that time we had a visit from Guy. Guy told us that in fact is was not a holiday….Freedom Day….or not Freedom Day…..now we were unsure. Since we had made other plans he said he would have a different crew of brick layers come and get some things ready at the work site so that when Phil and I and the rest of our brick laying team came back to work on Friday things would be ready. There was scaffolding that needed to be built, more bricks delivered and stacked and some truck loads of large rocks unloaded into the foundation of the building. All of these things could be done without Phil and I so we felt good knowing a day wouldn't be waisted. We carried on with our Freedom Day plans.
Every time we met someone we would ask them if today was a holiday. The response we got was about 50% yes and 50% no….we had some laughs each time we posed the question to a new group of people. Sometimes even in a small group of people we would create a disagreement because a few would say "Yes it is a holiday!", while the others would say "No! It isn't a holiday today". Despite the confusion we decided that for us it was in fact Freedom Day! We went on with our plans for the day and a great time meeting people and walking through the surrounding villages. We had some neat experiences with some local children and even toured a local guest house….that was interesting! Rooms there were about $6.00 a night and that was for the "deluxe" room that came with a mosquito net. The man who owned the house was named Ambassador and he was quite a caricature ! We had stumbled upon the house when looking for a place to stop and sit and have a cold drink. It is one of the things I love about Malawi. No matter how simple your intention might be (stopping for a soda) you are always bound to meet someone, learn something and sometimes even have an adventure.
Crossing the bridge back toward Kumbali we met another interesting bunch of men and children. There was a little tiny boy who was standing near the bridge and he was so cold he was shivering! It is winter here n Malawi so the days can get down as cold as 65 or 70 degrees. To the Malawians this is cold! Poor little guy was chattering his teeth and everything. I scooped him up and wrapped him in the long sleeve shirt I had been wearing over my t-shirt. That seemed to help him warm up. We also passed out some sweets and as soon as I had the candy unwrapped and he put it in his mouth a big smile came across his face. We stayed for a bit meeting the people there by bridge, taking some pictures and just enjoying that it was (maybe) Freedom Day.
The last village we passed through before crossing over onto Kumbalis property was filled with children. As we walked the crowd behind us got bigger and bigger and bigger. The kids all yelling "Jumbulani! Jumbulani" which means "Take my picture, Take my picture!". So of course we did. We took pictures and played with the kids until we really really had to get back for lunch. We didn't want to keep our cook Frank waiting on us. Had we not gotten lost winding through the paths toward home we would have made it back on time. Being a few minutes late was no big deal and we enjoyed a small lunch before heading back to our huts to get cleaned up.
The evening was spent in town doing a little shopping for a few odds and ends we wanted to add to our donations and then we were treated to dinner in town at Buchanons. It was a nice meal and we both enjoyed it very much. We were back to our huts by about 9 and headed to bed. We knew it was back to brick laying the next day.
We did find out that Freedom Day was a national holiday, but that about 2 years ago it was taken off of the calendar because the government felt there were to many holidays. Apparently some people still haven't got that memo. We decided we would celebrate it every year no matter if it was on the calendar or not 🙂
Since I didn't post a blog yesterday I'm a day behind! Today was work day and we both were moving pretty slowly. I think the work is starting to catch up with us. Phil seems better off than me though. This morning while packing up my backpack my back actually gave out and I fell on to my knees. I did get up, but my back just wasn't right all day. I was hoping once I started working it would loosen up….that didn't happen. I'm still struggling a bit, but hopefully tomorrow will be better. We got a lot done today and even stayed a little late to complete a few more rows of bricks. The work is getting a little more difficult because the walls are up near our heads. This means more bending and higher lifting. We are finding that we have gotten faster and better as the days have gone on though. The school kids are still loving waving at us each time they walk by to go to the bathroom that is currently at the edge of our job site. Many of the kids don't go into the bathroom they just kind of "go" around it. I wondered why this was… I asked Phil what he thought and he said "have you been in there?". I hadn't so I walked over to see…..I now understand why they don't "go" inside.  I'll take some pictures so you all can see exactly what we are replacing for these children. It's still incredible to me just how much of an impact this one building is going to have!
Enough for now. Thanks to those who read the blog and are following our adventures.