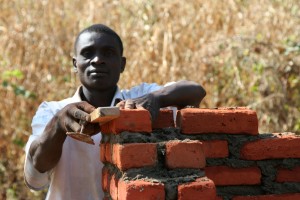 Today was overcast. No sun beating down on us through the work day which was nice for a change. Last night was the coldest yet! I was buried down under the flannel blankets of my bed with only my face sticking out in order to keep as warm as possible. I did brave the batroom…or errrrr bathroom in the middle of the night. All went without incident so my confidence in that department is up 🙂
The supervisor who's name is Paul was back at the job site today. Everyone was productive and worked well together. I did still feel a bit on the outs with the brick layers. At one point they all took a short break to have a snack (boiled potatoes). Each person on site was offered potatoes….except me 🙁 I was not in the mood for a bite of boiled potato, but it would have been nice to have been asked. By the end of the day we all seemed to be friends again. A few of the men were joking with me and when it came to be time to pack it in for the day I handed out the 2 bananas I had in my backpack (a small peace offering). The day ended on a good note and I even was able to share some pictures of my family with the men. They seemed to enjoy hearing about my husband and children. I think all is forgotten and we will move forward as friends.
Phil and I have been enjoying our daily walk to work. Even though we are working here at the same place we are staying we have about a 1/2 mile walk to the site. Walking the winding path through the tall grass tends to prepare us for the days work and also allow us to wind down after we are finished.
Each day we are welcomed back to the village with a hot lunch made for the two of us by Frank. Frank is one of the cooks in the village and we have grown to enjoy his food very much. He makes everything with such love and takes incredible pride in every detail. One afternoon he had even cut the tomatoes on our salad to look like each of our initials. Frank has been surprised that I can't keep up with eating all the food on my plate each meal. He keeps saying he wants to send me home "big and fat". Every meal has been wonderful and we are truly being spoiled by everyone here.
Phil and I spent some time talking last night about our projections for each day and how much work we felt we could do. We went round and around discussing details and mapping out time lines. Once we had that conversation I should have known things would quickly go down hill. In Malawi a "plan" is usually quickly changed and things come up that make sticking to it nearly impossible. As we spoke last night we both forgot to factor in the "Malawi element". True to form by the end of work today we had run out of bricks and been told that tomorrow is "Freedom Day", a holiday and nobody would be working. This has thrown off our "plan"….ahhh how I love Malawi and the challenges that each day brings. Although sometimes frustrating I really wouldn't have it any other way. It's a good reminder that just because you have a plan that does not mean things will go according to it.
Now we sit over looking the beautiful Malawi skyline and trying to come up with a new plan. Maybe we just need to stop planning and see what adventures tomorrow will bring….