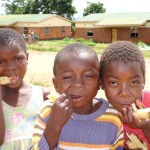 The flight was uneventful, and all went according to plan. I had the pleasure of flying on one of Ethiopians NEW planes! I can't wait to tell Ellen all the new cool features. The ride was better than its ever been. Of course there were still many crying children and I wasn't able to get any signifigant sleep, but it was nice to be on a new plane instead of the old ones I have traveled on in the past. I was exhausted when I arrived, but happy to finally be here. My luggage arrived as well so everything has started on a good note.
Isaac collected me from the airport and we took care of a few things right away. The sun was out and it felt wonderful to be in a tank top and enjoy some warm Malawi weather! Isaac and I had lunch together and then drove to my friend Andrews home where I am staying. Andrew and his wife Susan have 3 young boys so the house was full of energy. The boys are all as cute as ever and speak with wonderful Australian accents. They were excited that I had brought them REAL American baseball hats. I didn't know just how much they liked them until later in the evening when they took their bath and I was told all three of them wore them in the tub 🙂 Susan said first thing this morning one of the boys opened his eyes to wake up and said right away "Mum where is my hat?".
I was lucky to eat dinner last night with the family, and the boys were excited to tell me all about school and the things they like to do. Before the meal was over Archer the 5 year old said "Mum will Erin be here until my birthday?" so I think I'm "in" and the boys are all glad I'm here. Someone new to play with. Today Isaac will collect me at 9am and we will go to Mtendere and visit the children and check up on the playground. Then go in to town for lunch and a bit of shopping. The real work will start Monday when we will travel to visit our first potential project. Andrew has many things set up for me to see and do while I'm here so over the next few days I'll write again and hopefully it will be a bit more interesting for all of you. I am happy to have arrived safe and happy to have had a good nights sleep. I have my coffee in hand and will now get ready to take on the day.
Thank you all for the well wishes!