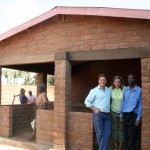 Today we were able to hand over the kitchen to the children and people of Adziwa. We arrived early this morning to put the final touches on things and then planned to serve lunch for the first time out of the new kitchen. The morning was full of clean up and a little painting. We also helped the women who cook come up with a new system for cooking and serving based on the fact they now have a kitchen almost 5 times the size of what was there just under 2 months ago.
At 11am on the dot the children began to line up and we all helped serve and wash dishes. It was awesome to be able to see a project come together in such a short time. Our hard work had finally paid off and we were able to see how proud the children and everyone was to be now eating out of such a wonderful kitchen. Leaving the site and talking our long walk back to our village was sad. We all knew this was the last time we would take that walk together, last time would cross the bridge together and last time we would arrive at our village so tired and hot from hard days work. Ellen and I walked across the bridge together behind the group and stopped to say a prayer. A nice moment and one I wont ever forget. We are so thankful that we were all able to come together and make this project happen. It was done with great support from so many people in the United States and when the kitchen was given today it was given not only on our behalf, but all of those peoples as well.
Tomorrow we head out to the rural school to deliver supplies, serve a nice meal and play games with the children. Everyone is excited to see another place and meet some new people, but at the same time the end of our time here in Malawi hangs heavy over all of our hearts. We all want to come home and be with our friends and families, but it is always hard to leave Malawi and the life we have had here for the last 2 weeks.
I will try to post tomorrow as we will be staying here in the lodge and Guy seems rather nice on letting me use his computer:)